Adventure Calls.
200hr YTTC, Gili Island
adventure is calling.
ReWild Your Spirit
Answer the call of your wild, wild soul.
Apply now for your 200hr Yoga Teacher Training in paradise 🌴.
Gili Trawangan (Better than Bali), Indonesia
Nov 3 – 30th, 2019 ⏳ March 1-28, 2020
Psst. P.S. Early Bird 🦜Registration Ends Sept 1st.
This is the soul-awakening, life-affirming yoga 🧘🏽‍♀️immersion in paradise 🏝 your soul is longing for. Take the first step 👣 on the journey of a lifetime.
Seize the day! Your wild spirit thanks you.
Love,
Kate
Life's too short to let another adventure pass you by.
Now is your moment to live passionately, love freely and dive deeper within.
Surprise! This month was so much more than I could have imagined. I felt safe to step way outside of my comfort zone. I'm so glad I did! I can now lead a room through a Yoga practice with clarity and confidence. I'm walking away with a new level of respect for my body, friends who feel like family and a readiness to get into the world and start teaching. Thank you!

~ Kelly , USA
Experience the Yoga Teacher Training your soul longs for in three simple steps.
Apply & be accepted to your new life-loving community. Our playful, profound tribe has your back.
Book your flight and pack your bags, your on your way to paradise! Whooooohooooo!!!!
Dive in deep for the life-affirming, yoga immersion you've always dreamed of. Become a Yoga Alliance certified teacher.
There aren't enough words in the world to describe the quality of this YTT. Kate is the most fantastic teacher in every way - her yoga style, her genuine care + trust in her students and her facilitation of building authentic relationships is like nothing I've ever experienced.

My asanas are stronger, my practice and understanding of Yoga is deeper and I leave with a huge desire to learn and grow and throw myself into my practice.

This training is a life changing experience that I could not recommend more highly.
-Elissa, Canada
The adventure of a lifetime beings with one simple step.
Start Here!
Take the first step now on your journey to reclaiming your wild soul.
Begin your application form right here, right now.
Adventure is calling.
Love,
Kate
Transform Your World.
Hi, I'm Kate.
Join me in paradise 🌴for over 200 Hours of training in yoga, meditation and authentic relating.
Are you ready for the adventure of a lifetime? Our potent month together is nothing less than inner alchemy ✨. In this training, you'll weave yogic traditions with modern psychology. You'll embody what it means to be a yogi 🧘🏽‍♂️through asana, meditation and authentic living.
You'll be empowered with my signature Embodied Flow. This practice is deeply rooted in hatha yoga, somatics, movement meditations, tantric philosophy, and transpersonal psychology. This is your recipe for meditation in action.
'This has been one of my biggest life lessons and I am so grateful for everything Kate taught us. I learned how much Yoga has to do with self love an dhow uplifting it is to share not only Asana but deep felt truths and bliss. The YTT aroused my urge to shine and tell the world. Because one's personal bliss is bliss for the whole Universe :)

Thank you, Kate, thank you YTT crowd of 11/18. LOVE, Yvonne.'
- Yvonne, Germany
'Thank you, Kare Middleton, Gili Yoga and Freedive Gili! I had a profound experience through the YTT - finding, grounding and exploring while learning how to guide others to find, ground and explore themselves. A great YTT for those what love relating authentically, practicing asana, free diving and meditation. Get ready to dive in!
-Megan, USA
This epic Adventure is right for you if:
🌴 You're longing to deepen your relationship with yourself.
🌴 You have a deep desire to be part of a supportive community founded on love and respect.
🌴 You're ready to live and breath the art of Yoga!
🌴 Your craving a deeper understanding nourishing and enlivening embodiment practices.
🌴 You're stoked to both move and meditate!
🌴 You're spirit is calling you to live passionately, love freely and go deeper within
🌴 You're deeply in love with adventure, and fascinated by the unknown.
🌴 You are no longer willing to live without meaningful connections, lasting friendships and a lifelong community
🌴 You're so very ready for the challenge and reward of 'doing the work'.
🌴 You're ready to celebrate your authentic self!
🌴 You are being called to awaken the teacher within.
🌴 You are ready to activate your voice!
🌴 You believe in the power of now.
This is the ONE!
Nov 3 – 30th, 2019
Your Wild Spirit 200Hr TTC is a transformational journey into living Yoga. You'll experience magic through community. In this training we co-create breath-by-breath, class-by-class, day-by-day.
Come immerse yourself in self-study, healing arts, embodied practices and play in the elements! This program lasts 28 days.
There will be 1 full day off each week for you to explore the island, absorb all of the information and integrate the practices.
Download your FAQ guide!
A Day in the Good Life:
6.45- 8.45 am - Morning Sadhana, (asana, pranayama, meditation)
9.00 am- 10.15 - Breakfast break
10.15-11.15 am - Authentic Relating
11.30-1.30 pm - Class, (Anatomy, physiology, philosophy etc)
1.30-2.30 pm - Lunch break
2.30-5.00 pm - Class, practice lab, teaching practice
7:00 pm - Evening events on certain nights
This sample schedule is subject to change.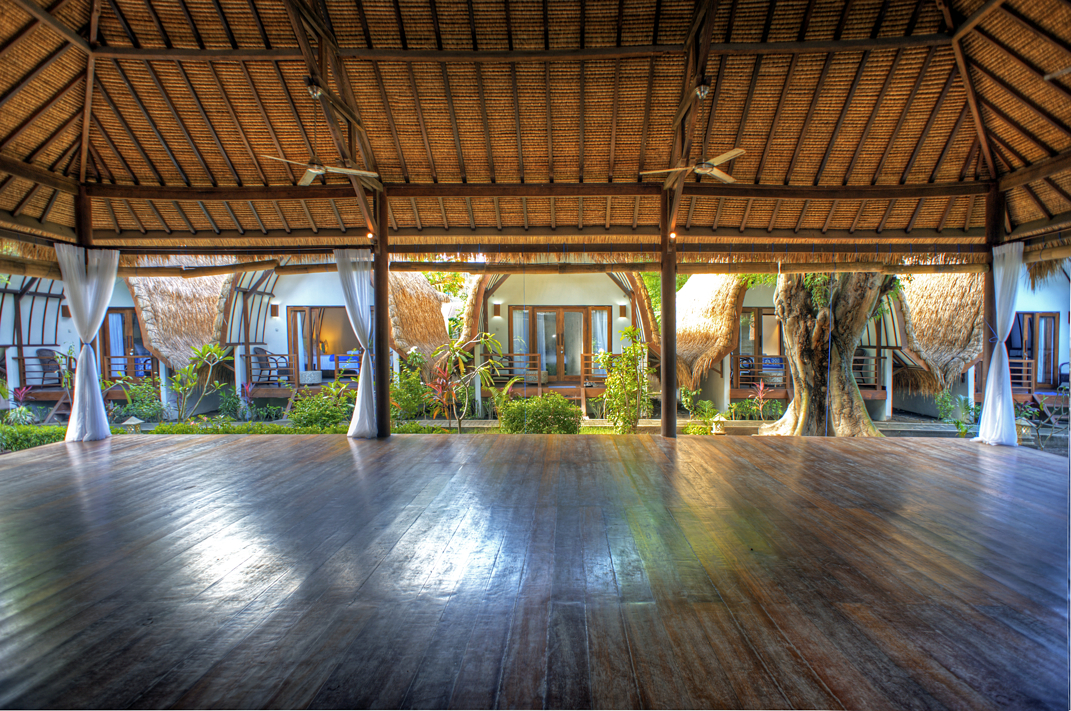 The Yoga Garden at Gili Yoga is a sanctuary of peace in the heart of Gili Trawangan. Our rooms are set in our tropical garden, surrounding the beautiful yoga shala so that you may wake up and step straight into your morning practice. All of our rooms are modern and charming with cleanliness and comfort being a top priority. Our rooms all have Air Conditioning, hot and fresh water, wifi, Satellite TV, mini fridges, safety deposit boxes and even blackout curtains to ensure deep, healing sleeps.
Pricing
Our Teacher Training is an intensive program for those who are ready to dive in to the transformative path of yoga. The duration of our programs (28 days) give you time to learn, practice, evolve and build confidence in your teaching before taking it onwards and upwards from here. We believe that the length of our training allows time to steep in the learning, integrate so that you can take it all home with you and even enjoy island life outside of the yoga shala!
We are the only teacher training in the region committed to a small group experience. We take a maximum of 20 students for an intimate group feel and plenty of individualised attention. This helps us to connect on a deeper level as a group and it gives you more time to practice teaching.
Our residential pricing includes full tuition, your YTT Manual, accommodation for the duration of your training in our beautiful yoga sanctuary and a daily healthy, breakfast. We are offering our accommodation at up to 50% off our regular rates for our Trainees so that you may enjoy the best environment for learning and teaching. Residential places are likely to sell out first as we have a total of 9 rooms (four twin and five doubles) so I recommend reserving sooner rather than later if you wish to stay onsite.
Non-Residential
Off-site option
Tuition
YTT Manual
Daily Vegetarian Breakfast
Residential, shared (double occupancy)
28 nights in our Yoga Garden
Tuition
YTT Manual
Daily Vegetarian Breakfast
Residential, Private (single occupancy)
28 nights in our Yoga Garden
Tuition
YTT Manual
Daily Vegetarian Breakfast
I want to hear from you.
If you're heart is calling you to come to this training please reach out to me HERE. I understand what it means to feel the fear of making a big life changing decision. I am here to guide you through the process of taking the big leap into a more expansive future.
Email me back to chat, or book your connection call right now. I am so excited to hear from you!